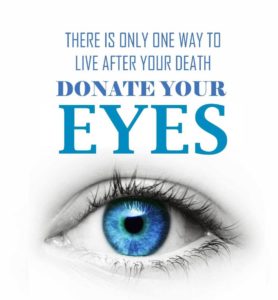 Why should eyes be donated? There is no substitute for human tissue, so if eyes are donated two blind people get to see
What is Eye Donation?
Eye donation is a noble act of charity where a person voluntarily pledges to donate his/her eyes after death in order to help provide vision to two blind people. Corneal disease is a major cause of blindness which affects both children and adults. This kind of blindness is curable through corneal transplantation that can be made possible only through eye donations.
 Myth or Fact – People who use spectacles cannot donate their eyes
Myth – People who use spectacles for vision problems such as short sightedness, long sightedness or astigmatism can donate their eyes as these conditions relate to the lens of the eye and not the cornea. Anyone with a clear, transparent, healthy cornea at the time of death is suitable to be an eye donor. People who have undergone vision correction surgeries in the past can also donate their eyes.
 Why should eyes be donated?
Statistics show that there are 15 million blind people in India, out of which 6.8 million are estimated to suffer from corneal blindness, who can regain vision through corneal transplants. As there is no substitute for human tissue, it is very important for us to pledge to donate our eyes after death. Two blind people get to see again from each pair of donated eyes. Apart from the cornea, other portions of the eye can also be used for education and training purposes, as well as for research to develop cures for some common eye diseases.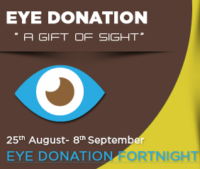 What role does an eye bank play in eye donation?
An eye bank is a non-profit organization that collectseyes which are donated by noble citizens, medically evaluates and processes them, and distributes the donated ocular tissue for use in corneal transplants, scleral reconstruction, training, education and research. Eye banks play an important roleby providing access to corneal tissue to the needy, thereby bridging the gap between corneal tissue supply and demand.
Myth or Fact – The next of kin can consent to a donation if the deceased person has not signed an eye donation form
Fact – Yes, the next of kin can consent to eye donation even if the deceased person is not a registered eye donor, by contacting the nearest eye bank at the earliest. They may need to sign a form to authorize the process. If you haven't pledged your eyes but want todonate your eyes after death, it is important to inform your family members of your decision so that they can do the needful.
 RAJKUMAR EYE BANK
Dr. Rajkumar Eye bank was inaugurated by the charismatic matinee idol Dr Rajkumar in 1994. A touching testimonial to his commitment to lead by example, is in the fact that he willed his eyes. He motivated a large number of people, and following his unfortunate demise in April 2006, his family continues their support.
This Eye Bank was established with the purpose of disseminating the importance of eye donation and to facilitate the collection, processing and distribution of eyes to patients having corneal blindness. A state of the art eye bank with international standard tissue banking facility allows us to utilize eyes collected from donors.For details:
https://www.narayananethralaya.org/eye-bank/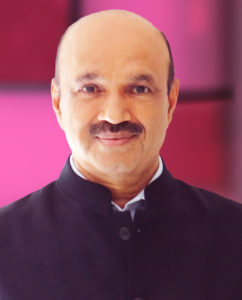 Dr. K Bhujang Shetty
Narayana Nethralaya ,Bangalore, Karnataka
Telephone no: +91-80-66121300-305
Email : info@narayananethralaya.com, info@nnmail.org