Why is Fitness Important for youth? You
ths are backbone of the country and fitness is key for increasing the productivity of the youth. Fitness helps youth to become active and lead a stress-free life.Physical fitness is more than just keeping our weight in check. Research studies have shown that the more active you are, the better you feel in general. The incidence of obesity in youth is very high all over the world and is increasing at an alarming pace in India. Therefore, it is important to ensure that, in India, the focus shifts from Skill Related Fitness (SRF), which is limited to the few who play a sport, to Health Related Fitness (HRF), which can be enjoyed by every child.
Insufficient exercise inevitably leads to diseases of inactivity such as diabetes, hypertension, obesity and myocardial infarction. Parents, who have great expectations from their children in their academic pursuits, rarely stress upon the bare minimum of HRF. This could be because they are lack of knowledge and the consequence of the lack of physical fitness does not cause any obvious damage for a very long time.It is thus the responsibility of schools and parents to ensure that children possess a minimum level of physical fitness, even if they are not skilled sports persons. Certain permanent lifestyle changes must be ingrained in children at a young age.
Child and fitness
Encouraging youth to follow a regular fitness regime will make them active, stress-free and also enhance concentration and productivity of work. A sensible balance between academics and fitness is the need of the hour. Health related fitness should be a family activity, and parents can initiate their wards by motivating them to take part in non-competitive sporting activities.
Exercise gives strength to the muscles.In this age exercise makes a child fit and healthy because with exercise the child feels fresh and his appetite also improves a lot. Even if your child is very active, exercise can help him gain height and weight. Another benefit of exercise is that it is the best and easiest way of directing energy of the child in the positive direction. Kids imitate their parents. If you develop the habit of doing exercise, your child will positively learn the same habit by copying you.
For older kids exercise is helpful in getting right body structure. Exercise encourages them learn the competitive spirit. Exercise or playing games in fresh air is helpful for the active functioning of brain. With the habit of exercise, a child can overcome his stress and routine tensions.
If your child is not taking interest in exercise, you can encourage him by offering different types outdoor games.
Teach your kids the value of exercise. Guide him that why you are telling him to do exercise, why it is necessary for the physical growth.
Upgrade his knowledge regarding this field. It will also be helpful in bringing your child close to nature.
Fresh air not only improves physical health but also gives him a healthy and psychologically strong mind.
Your goal should be the all-round development of your child. The habit of exercise can make him healthy and active for the whole life.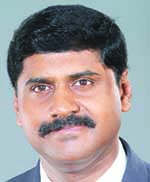 Dr.C.Dinakar 
Vydehi Hospital
Whitefield, Bangalore – 66
Ph: 080-28413381/2/3/4 www.vims.ac.in