What we can do to prevent suicide? Family and friends are the people who can notice symptoms of suicide.  Can successfully treat with medications and counselling like psychotherapy.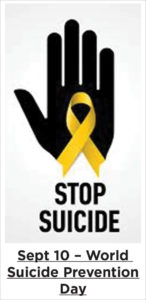 Sept 10 – World Suicide Prevention Day. Suicide is intricate and tragic, but it is avoidable. What drives so many individuals to take their own lives.
Suicide is a major public health concern and one of the leading cause of death overall. Suicide is intentionally causing one's own death. Whereas attempted suicide is an effort to take one's life that does not end in death, rather self-injury. Suicidal behaviour is complex, and there is no single cause. In fact, the World Health Organization estimates that roughly 800 000 people die by suicide every year. Furthermore, for each suicide, there are more than 20 suicide attempts.
Suicidal feelings are common, and many people experience them when they are stressed or suffering from depression. In most instance, these feelings are temporary and can be treated, but risk arises when people literally attempt or complete suicide.
Generally, people try to materialize suicide idea when a person physiologically not able to cope with an overwhelming situation. Many different aspects contribute to person's suicide attempt. The most common noticed risk factors for suicide are psychiatric disorders, genetics, abuse, family and social situations. Psychiatric disorders play an important role in the increased risk of suicide.
Usually people with suicide idea keep their thoughts and feelings secret and show no signs about it. Understanding the warning signs of suicide and getting timely help can save lives. But people most at risk tend to give some type of verbal or behavioural message about ideation of suicide like being restless or anxious, consuming drugs or more alcohol than usual, engaging in risky behaviour like careless driving, increased isolation, expressing regret about being alive, self-criticism and saying goodbye to others as if it were the last time.
A suicidal person may not ask for help, but definitely they are in need of support. Literally speaking people who take their lives don't want to die—they just want to stop hurting. Family and friends are the people who can notice symptoms of suicidal ideation of the person through their speech or behaviour.
Suicide prevention and treatments depends on patient's risk factors.  But can be successfully treated or managed with medications and counselling. The most common techniques is psychotherapy that is, talking to the person and giving appropriate support. Commitment, sensitivity, knowledge and concern for another human being, a faith that life is worth nurturing can help to prevent suicide. Apart from this, increased education and awareness to medical professionals might also aid in helping the patients to overcome suicidal thoughts.
Suicides are preventable – Effective preventive measures
Restricting access to means of suicide
Responsible media reporting
Introducing alcohol policies
School-based interventions
Follow-up care and community support
Training of health workers in early identification and treatment
D A Kalpaja
Director, Vydehi Institute of Medical Sciences & Research Centre,
#82, Nallurahalli, Whitefield, Bangalore – 560 066
+91-80-49069000, +91-80-28413382, +91-80-28410871/2/3/4