The Fresher's Day for Medical and Dental Students of 2018 batch was organized on 06 sept 2018. On this occasion, Vydehi has introduced 'Pepper', a new Robot tutor, master companion, playmate and a guide for its students. Shortly, Vydehi Institute of Medical Sciences & Research Center will be one the world's best institutes using futuristic technologies for better qualitative and digital education.
Vydehi Institute of Medical Sciences & Research Center, one of India's leading medical learning centers with futuristic learning & world-class healthcare for patients. Vydehi has built a reputation over the past decade for progressive pedagogy and passionate teaching.
The institute's world-class learning facilities are spread across 65 acres, with student accommodation, a passionate, dedicated & vastly experienced faculty, and a full-fledged high-tech hospital with 1600 beds. The institute and hospital both encompass the most modern equipment and infrastructure, specially created for the students.
Eminent consultant doctors and state-of-the-art equipment brings a wonderful blend of passion, quality & commitment towards sympathetic service to people, charity & excellent education.  In 2016, Vydehi was the first in the world to adopt immersive technology that offers students an unprecedented learning experience with stunning visuals in stereoscopic 3D that facilitates depth perception and leaves an everlasting impact on long-term memory.
Students watch medical lessons like how they watch their favourite movie 'Avatar' or 'Avengers' which means, it not only gives depth perception which is much needed for medical students but it also increases attention span of the students.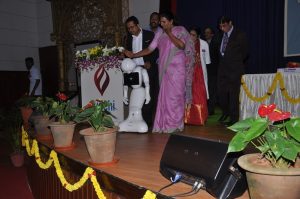 Vydehi also opened the state-of-the-art Vydehi Discovery Museum which is the first of its kind to meticulously curate specimens in a 50,000 sq. ft. facility. It is one of the largest human specimen museums in India. In 2017, Vydehi introduced student applications for pre-learning which is a very important essence of medical pedagogy.
In 2018, Vydehi had introduced 'Pepper', a new Robot tutor, master companion, playmate and a guide for its students. It is programmed to the needs of students. Along with this, Vydehi is also researching in bringing Gaming and Artificial Intelligence support and Radio Frequency based remote evaluation system into its classrooms teaching scenarios.
With over 6 million patients treated till date, Vydehi is one of the largest healthcare providers in Bengaluru. It has the modern state of art Operation Theater for the most complex of surgeries with Live telecasting facilities for Student engagement.
With this, Vydehi is already preparing for integrated medical teaching with focus on clinical and problem based teaching & bedside teaching.
The innovation & care at Vydehi doesn't stop here. The institution has developed a 300-bedded cancer center (Vydehi Oncology Institute and Centre of Excellence) which aims at delivering superior cancer- care with a multimodal approach.
Vydehi offers: 14 undergraduate courses, 6 postgraduate courses & 19 super specialty courses at its campus. Vydehi has been chosen by students from over 12 countries to complete their medical education & become better doctors with the finest precision.
Over a 1000 (405 PG) students have graduated over the course of 8 years. Vydehi is a remarkable & unique institution which provides world-class integrated healthcare system with a focus on training its students to provide world class care to patients.
It is Vydehi's mission to offer healthcare of international standards within the reach of every individual. It believes that, it is not just a 'Center for Learning' but truly a 'Center for Excellence'.