Bengaluru:Sakra World Hospital, a leading hospital in Bangalore has signed a MoU with Rotary Palmville,to conduct awareness camps, screening camps and provide treatment for breast cancer for the underprivileged women for free of cost. The camps will be conducted in rural parts of Bangalore, adjoining cities & villages in Karnataka and Tamil Nadu.
The screening camps will be run using a mobile Breast Cancer Screening Clinic, which will be, equipped with screening equipment like an Ultrasonogram and a Thermalytics Screening Solution, etc. Sakra World Hospital will provide the doctors and technicians for conducting free camps as well as treatment for the cases detected with breast cancer while funding of the medical equipment will carried out by the Rotary.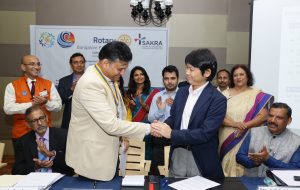 In India, today a large proportion of cancer in women has increased tremendously as compared to last few years. As per the National Cancer Registry reports of India, the Age Adjusted Incidence Rate of breast cancer in India is 25.8% with a mortality of 12.7. However, if detected early the survival rate of breast cancer is among the highest among all types of cancer. So initiatives in early screening has the highest impact to counter this type of cancer.
Speaking on the occasion, Mr Takashi Maki, MD Sakra World Hospital said " Today, breast cancer is the most common type of cancer among women in India as well as globally. However, if detected early, this type of cancer is almost completely curable. Unfortunately in India due to lack of awareness and early screening, more than 50% of the cases are detected late when it is already in stage 3 or 4 leading to high mortality rates. So as part of our CSR strategy, we wanted to hence focus on awareness building and early detection of breast cancer". This initiative is one amongst the many social initiatives the Rotary is driving spanning across areas like Education, Environment and Healthcare etc." added Mr Ritesh Goel, President of Rotary Palmville (2018-19).