Bengaluru: Sakra World Hospital,has announced the launch of Institute of Pediatrics with Pediatric Super Specialty Facilities which will be spearheaded by Dr. Surender Kumar Yachha, who joined the hospital recently. This newly launched centre is well equipped for performing various pediatric complex surgeries (Neonatal & Urology), Diagnostic and Therapeutic Pediatric endoscopy and has the capability of performing Endoscopy on digestive system on all children including the newborns.
Nearly 40% of Indian population are children*, but the availability of Super Specialists to treat critical diseases are not enough across the nation. The Sakra Institute of Pediatrics and Pediatric Super Specialty seeks to address this concern by providing all Super Specialty services under one roof.
Under the supervision of Dr. Yachha, the newly launched dedicated pediatric super specialty department is poised to treat neonatal to pediatric cases which will focus on curing the diseases and not just the symptoms. Dr. Yachha, a pioneer who introduced Pediatrics Gastroenterology as a super-specialty department in India, is the Founder-President of Indian Society of Pediatric Gastroenterology, Hepatology and Nutrition (ISPGHAN). He is also the recipient of 94 prestigious awards for his relentless efforts and contribution to healthcare services. Prior to joining Sakra World Hospital, Dr. Yachha was the Professor and Head- Department of Pediatric Gastroenterology at Sanjay Gandhi Postgraduate Institute of Medical Sciences, Lucknow, India. He has successfully treated innumerable cases of gastro-intestinal, liver and pancreatic disorders in infants and children. He has extensive experience in performing both diagnostic and therapeutic endoscopic procedures in infants and children. During his illustrious career spanning 30 years, Dr Yachha has showcased a unique approach while treating even the most complex cases.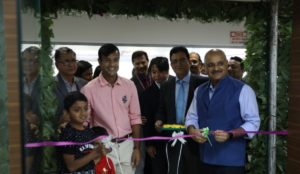 Speaking on the occasion of the launch of Sakra Institute of Pediatrics and Pediatric Super Specialty, Dr. S.K Yachha said, "Children are not mere small adults, their spectrum of disorders, reaction to the diseases and pattern of manifestation are different from adults.In India, since there is scarcity of Pediatric Super Specialty departments as compared to what is available for adults, there is a big need to fill this gap of development so that it becomes parallel to what is seen in the western world. Thus, there is a big requirement of generating trained man power in different specialties, well-equipped departments and specialised services for the pediatric super specialty."
"Children are the future of our nation. Therefore, their health and well-being is of utmost importance.  I am delighted to be part of the launch of Sakra Institute Pediatrics and Pediatric Super Speciality to be spearheaded by Dr S K Yachha, who is known for his clinical expertise in managing pediatric gastroeneterology cases.  I wish both the centre and Dr Yachha good luck for the future," said Mr. Praveen Sood, Director General of Police, CID, Economic Offences & Special Units,  Karnataka on the inauguration of Sakra Institute of Pediatrics & Pediatric Super Specialty.