Prevention is better than Cure to achieve Health for All. Gone are the days when one had to wait for the signs and symptoms of a disease to appear before starting treatment. In this era, testing of just 2 ml of blood can predict the susceptibility of a disorder basis of family history and lifestyle.  Thanks to the mushrooming of chain labs and media awareness, Indians today are opening up to the concept of preventive health check-ups.
No wonder, you see a long queue of people lining up at a health checkup centre! Interestingly, this trend is catching up with both young and old alike!
Healthy India – are we far from reality?
Lifestyle disorders such as diabetes, stroke, cancers and cardiovascular diseases have been long hitting us. Detailed studies indicate that the prevalence of these diseases have resulted in an increase in the mortality figures by at least 50% in every Indian state between 1990 and 2016. In fact, every year, roughly 5.8 mn Indians succumb to heart and lung diseases, stroke, cancer and diabetes. Not far behind,non-communicable diseases are expected to comprise more than 75% of India's disease burden by 2025.
The Government has made a good move by implementing the National Health Protection Scheme under Ayushman Bharat, to provide universal health coverage to over 10 crore poor and vulnerable families. However, as a country, we are still far away from developing a robust health coverage system for our entire population. According to the WHO (2005), the estimated loss in India's national income due to heart diseases, stroke and diabetes in 2005 was US $9 billion as compared to US $3 billion for Brazil.These losses are projected to exceed US $200 billion in the next decade.In such a scenario, the emphasis is brought back to preventive health check-ups.
Is preventive healthcare becoming a sunshine sector?
Yes prevention is better than cure to achieve health. According to a report by RedSeer Consulting, the preventive healthcare market in India is likely to double in size to $106 billion by 2022 with around 130 mn health conscious individuals actively taking preventive measures to ensure a healthy living.  Other industry analysts, have quoted a growth of 25% in the preventive healthcare market over the past five years. This clearly indicates the growing demand for the preventive healthcare. The 2019 -20 Union Budget outlayed Rs. 62, 398 cr for the health sector, the highest in the last two financial years. However, industry bodies such as FICCI had expected an increase in tax exemption to Rs. 20,000 from Rs. 5,000 incase of preventive health check-ups. An increased tax exemption would encourage people to opt for regular health check-ups, thereby aiding in early diagnosis and in turn reducing the burden on secondary and tertiary care facilities. Guess, the proposal is yet to find common ground with the government.
Nevertheless, it is encouraging how corporates are making pre-employment health check-ups a mandatory part of the recruitment process. Not just pre-employment, they are offering yearly check-ups to all employees. Extending the benefit of discounted packages for the next of kin, is further incentivizing the growth of this sector.
Technology is driving the sector
Prevention is better than Cure to achieve health. Preventive healthcare is reaching the second and third level of class of people and geography, all thanks to technology. The availability of apps, smart watches and fitness bands is making it convenient for users to keep a regular track on their health. In the future, this sector is expected to witness tech disruption earlier than the healthcare sector.
Facebook has already started collaborating with healthcare organizations in the USA to launch a new preventive health tool to help users find affordable places to receive care, set reminders to schedule their tests, mark when tests are completed, and much more. Point-of-care testing products for monitoring of blood glucose levels, blood pressure and urine analysis have already made their mark.
How Transasia promotes preventive health check-up

Chain labs nowadays, offer customized health check up packages depending on the age and gender of the population besides, packages targeted to detect a particular health condition. Home collection services and quick response time for reporting is further driving the popularity of this sector. And this is where the role of manufacturers of diagnostic instruments and reagents becomes very crucial. In order to sustain the competition, chain labs rely on diagnostic products that offer quality, reliability and affordability to meet the economies of scale and of course a strong after-sales service to minimize the downtime.
Transasia Bio-Medicals Ltd., India's largest In-vitro Diagnostic Company is trusted by leading chain laboratories for equipping their centres even in the remotest regions. Every year more than 150 crore blood tests are done on our equipment with a considerable amount of these being for preventive care. Transasia has installed over 75,000 equipment across India. In fact, every 2 seconds, 1 test is conducted on Transasia equipment. With its vast network of 700+ sales and service team specialists, the largest in the Indian IVD Industry, Transasia serves more than 40,000 laboratories in a record response time. In fact, its biochemistry range is equipped with remote access technology for predictive maintenance to offer uninterrupted services.
On the product front, Transasia offers an array of both instruments and reagents that aid in preventive testing with accurate reporting. Misdiagnosis remains a big concern that mars this sector. Cases where a person has been falsely diagnosed positive in a preliminary testingand a confirmatory test, revealing otherwise, are not uncommon. Imagine the agony faced by the patient! Transasia's instruments and reagents offerthe best sensitivity and specificity, thereby ensuring accuracy of test results.All instruments and reagents confer to the highest certified national and global quality standards including ISO, ICMED, CE and FDA. Needless to say, the end beneficiary is the patient who can rely on the reports of the tests done on a Transasia product! Citizens need to ensure that they opt for a preventive healthcare package at an NABL accredited laboratory to ensure reliability of testing.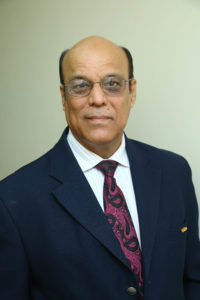 Anil Jotwani
President – Sales &Mktg