NEET exam may be conducted twice from 2021, check pattern and latest updates.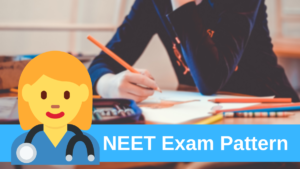 National Eligibility cum Entrance Test (NEET) is considered as the most competitive examination. It is an all India Medical entrance examination conducted by the National Testing Agency (NTA) in many parts of the country. It is speculated that the exam may be conducted twice a year from 2021. If this happens, the exam might be conducted just like JEE Main, January and April sessions.
Read on to know more about  NEET 2021 exam pattern if you wish to apply for medical courses like MBBS, BDS, AYUSH and BVSc & AH courses in various medical colleges. Till now, the exam is conducted by NTA only once in a year, and more than 15 lakh students appear for the exam every year. The 2021 NEET examination is expected to be conducted in May.
1. The pattern of NEET 2021 exam will be set up by NTA just like for the NEET 2020, however, there are speculations for the change in NEET 2021 exam pattern which will be cleared later by the official authorities.
2. The exam will be held in pen-paper mode. The NEET 2021 exam pattern is divided into three main sections namely, Physics, Chemistry, and Biology. All the sections will have 180 questions in total.
3. The NEET paper will be available in English/Hindi/Urdu and other regional languages (11) as chosen while filling the application form.
The examination cell also has a reservation for the candidates who belong to different categories. The bifurcation of reservation categories are as follows:-
Scheduled Caste (SC) – 15%
Scheduled Tribe (ST) – 7.5%
Other Backward Caste (OBC) – 27%
PwD (Persons with Disabilities) – 5%.
Important Events for NEET 2021
1. The registration process for NEET 2021 will be available online tentatively in November 2020.
2. The admit card for NEET 2021 will be available tentatively around April 2021.
3. NEET 2021 exam is tentatively scheduled for May 2021.
4. The answer keys will be released within a week after the exam has been concluded.
5. The results will be declared by June 2021, and the counselling for admission process will commence from the second week of June 2021
Exam Pattern for NEET 2021:
The NEET 2021 exam pattern will include:
Number of Questions
180 Questions
Total Marks
720 Marks
No. of questions in each section
Physics- 45,

Chemistry- 45,

Biology- 90 (Botany- 45, Zoology- 45)

Marking Scheme
+ 4 for the correct answer

-1 for an incorrect answer

Type of Questions
Multiple Choice Questions
Exam Mode
Offline
Duration
3 hrs (180 mins)
NEET 2021 Exam Date
May 2021
1. The NEET examination is conducted in different languages, so the candidates appearing the exam can choose the preferred language according to their preference. The eleven languages offered are Hindi, Tamil, English, Assamese, Oriya, Kannada, Bengali, Gujarati, Marathi, Urdu, and Telugu.
2. The NEET 2021 exam pattern will be in the form of an objective type. 4 options will be provided and of which only 1 will be the correct answer.
3. Negative marking prevails in the national level examination.
4. The exam will be of a total of 720 marks.
NEET 2021 exam pattern: The question and marks distribution
1. For Physics, it will be 45 questions of 180 marks.
2. For Chemistry, it will be 45 questions of 180 marks.
3. For biology, there will be two sections that are Botany and zoology. Each section will have 45 questions of 180 marks each.
So, in total, there will be 180 questions of 720 marks. There will be no marking for the answers not attempted.
NEET 2021 exam pattern: Syllabus
The Medical Council of India (MCI) decides the syllabus for NEET every year. It is important to check the NEET 2021 exam pattern and syllabus, so check some critical topics from each subject:
Physics: Current Electricity, Thermodynamic, Kinetic Theory of Gases, Oscillations and Waves, Magnetic Effects of Currents, Alternating Currents, Optics, Dual Nature of Matter & Radiation, Atoms and Nuclei
Chemistry: the concept of chemistry, Hydrogen, Equilibrium, Alcohol, Electro Chemistry, P-Block Elements, Surface Chemistry, Electrochemistry, Phenols, and Ethers, Electro Chemistry, Coordinate Compounds, Halo Alkanes and Haloarenes, Aldehydes Ketones and Carboxylic Acids
Biology: Human Physiology, Reproduction, Plant Physiology, Cell Structure and Function, Ecology & Environment, Diversity in Living World, Biology and Human Welfare, Diversity in Living World, Structural Organization in Plants, Structural Organization in Animals.
All the best to all the aspirants who want to appear for the NEET examination in 2021. Plan your studies and schedule well for the better result. Just keep working hard, and you will be placed in the best medical college in India.