Muniyal naturopathy and yogic sciences college gets approval.
Manipal June 20,2020:  Dr.U.Krishna Muniyal Memorial Trust gets the nod to start its Naturopathy and yogic Sciences College. The matter was announced in the official press release.
Muniyal Ayurveda Institute founded by Late Dr.KrishnaMuniyal in 1939 is presently running Muniyal Ayurveda Hospital and College, Post Graduate Sciences in Ayurveda, Doctorate Courses, Peripheral and Rural Family Clinics, Ayurveda Drug Research Centre, a renowned Ayurveda Pharmacy, Literary Research Unit and developing Herbal gardens.
In the era of global awareness on yoga in maintaining health and also curing the disease, the institution proclaims to preserve and promote the ancient glory of yogic science in all its perspectives and carry out proper documentation and research. Muniyal Ayurveda took its inspiration from Late Dr. U. Krishna Muniyal, who practiced Ayurveda for more than 40 years and was the disciple of Pandith Taranath, a great Ayurveda scholar who had treated Mahatma Gandhi several times. Pandith Taranath used to perform Parakãya Pravesha (one's consciousness entering into another's body) while treating the patient.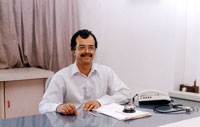 Ancestors of the Muniyal family used to treat patients with all types of ailments successfully by using holy water enchanted with sacred and auspicious hymns.The Trust has devoted itself to the field of Ayurveda by undertaking cultivation & preservation of rare medicinal plants, research in Ayurveda, developing treatment for chronic & incurable diseases, establishing speciality Ayurveda hospitals, running under-graduate and post-graduate courses in Ayurveda, propagating ancient herbal gardens, establishing a literary division to bring out ancient Ayurvedic scriptures. The trust intends to revive ancient Indian wisdom through its proposed Buddhaayurved University.