Mental health and stigma during COVID19 – India's unseen real battle! COVID-19 has definitely created a mayhem and turned things upside down. Amidst the chaos it's important for individuals to maintain their physical and mental health.
On 31st of December 2019, numerous pneumonia cases with unknown cause was detected in Wuhan, China and was reported to World Health Organization Country Office in China. The outbreak was declared as a Public Health Emergency of International concern on 30th January 2020. By 11th February WHO announced a name for the new coronavirus: COVID-19.
The fear of this virus certainly lived among all, which later was accelerated when India confirmed its first case on 30th January 2020. Since then, the government and concerned authorities have taken great measures to prevent the spread of the virus and to protect the health of the public which included creating awareness among the public regarding the disease, health education and by taking preventive measures including social distancing, cough and sneeze etiquettes, hand hygiene, use of face masks, avoidance of touching face, nose, eyes with hands & quarantine/isolation.
One of the major step taken by Government of India which has had a great impact on the public is "NATION-WIDE LOCKDOWN". The lockdown concept enforced the public to stay back at home for their as well as others safety. While the situation demanded that the health care professionals and the police department to stay on board to serve the nation, the educational institutions were closed, exams were postponed; offices were shut down; malls, theatres, gyms, restaurants, salons, industries & shops too were shut down; public movement from one place to another was restricted by stopping all public transport services. It seemed like a big pause in one's life.
People certainly did enjoy the initial few days of the lockdown period i.e. staying back at home, spending quality time with family members and doing things which they missed on other normal days besides the fear of COVID-19 pandemic. All the measures taken by the Government succeeded in preventing the rapid spread of the disease to a greater extent and protect the people physically. But there was a greater problem lurking around and was unaddressed initially i.e. regarding the mental health. Different sector of people faced varied mental health issues, to name a few-
 General Public:
 To them adapting to new lifestyle changes, managing the fear of contracting the virus and worrying about close ones who are vulnerable were the initial cause of stress, anxiety and panic. As days passed by the mental disturbance had varied causes like –
1. Boredom.
2. Stressing about the essentials which would go out of stock in due course of time.
3. Missing the activities which were enjoyed and done before COVID-19 like meeting up friends, partying.
4. Fear of not being able to join their family among the ones who were stranded away from their family and native.
5. Loss of job.
6. Uncertainty and fear about the future among the students and their parents.
7. Vulnerable groups including pregnant women, new born and children, elderly population (> 60 years), people with comorbidities – were constantly under the stress of contracting the virus.
8. Economic crisis and its outcome.
9. People approaching their retirement period stressed regarding their pension and other settlements.
10. Fear that lifestyle not restoring back to normalcy i.e. before COVID-19 crisis.
"People around me tell- 'All of this will get better'.
But I ask them back "Will it ever?"
The four walls of my room seems To get smaller by day,
Making me go short of breath.
Is it real? Or is it just me Having another mental breakdown?"
~R.
2. Individuals who tested positive:
Individuals who tested positive for Novel Corona virus were subjected to Quarantine/Isolation and were monitored by authorities. The above measure, which were adopted in view of treatment & control measures took toll in a different way. They too faced mental health issues like anxiety, stress and depression. There was an incidence where an individual committed suicide due to stress and depression. Some of the reasons which affected the mental health in them were-
1. Fear of not being cured.
2. The very fact of having to be under Isolation/quarantine.
3. Fear of not being accepted by the community.
4. Guilt of not taking care of their loved ones.
5. Guilt of being the cause of spread to their family members and the community.
6. Fear of death.
3. Health care professionals and the Police Department :
During the COVID-19 pandemic, since the day one, health care professionals and the police department stood rock hard to serve the nation. They have worked day in and day out prioritising the health and safety of the nation's citizens over theirs. They have also faced mental health issues during this period owing to –
1. Self-Quarantine.
2. Separation from loved ones.
3. Work stress.
4. Fear of contracting and spreading the disease.
When spoken to a health care professional, he mentions – "I have seen people come to the screening centre even if they sneeze and cough once. Such is the fear among the public. Many people who come here say they have symptoms of corona (shortness of breath, mild cough) but when examined it turns out to be related to stress and panic for which they are counselled, given assurance and sent back home advising to re consult if symptoms persist"
Along with the mental health issues the stigma also prevailed among the people. Stigma occurs when people associate a risk with a specific people, place, or thing. Stigmatization is especially common in disease outbreaks. Stigma in the current situation was towards-
1. Individuals who tested positive of Novel Corona virus.
2. Individuals who were put under quarantine/isolation.
3. Health care professionals on COVID-19 duty.
4. Individuals who were released from quarantine/isolation.
5. Individuals who travelled back to their natives from different places.
Measures taken to address the mental health issues and stigma :
Considering the increasing mental health issues, the Ministry of Health and Family Welfare, World Health Organization, & NIMHANS have taken following measures-
1. Information guide sheets to help people to cope with stress and anxiety during this period of COVID-19. It includes the measures which public, parents, older adults, health care professionals and the community can adopt to combat and reduce the mental health issues.
2. Audio-visual materials are made available to take care of mental health during the stay in, managing stress through yoga and meditation, managing mental stress and depression during lockdown, addressing social stigma associated with COVID-19.
3. Infographics.
4. Toll-free helpline numbers for telephonic counselling.
Mental health post COVID-19:
As stated by our Honourable Prime Minister Narendra Modi 'the virus is going to be a part of our lives for a long time'. It is important for people to understand that the presence or absence of the virus should not affect their physical and mental wellbeing. Public is advised to follow simple preventive measures such as social distancing, hand hygiene, cough and sneeze etiquettes, use of masks to protect oneself from contracting the virus. Some of the recommendations which individuals can follow are-
1. Keeping oneself informed and updated about the current status and any recommendations by the authorities.
2. Minimize watching newsfeeds and scrolling down the social network sites to avoid unwanted and unhealthy information's.
3. Follow a routine which could include going to bed early and waking up early, routine exercise at home, eating home cooked healthy meals.
4. Stay connected with your loved and close ones through varied options available like phone calls, video calls, group calls, chatting.
5. Speak up and share your feelings with the ones you trust and are close to. This helps to relieve the stress to a greater extent.
6. Older adults who are already on medication for some of their health condition, they are advised to continue their regular medications, keep themselves physically and mentally active & seek help if needed.
7. Yoga – practicing yoga at home is a great way to keep one's body and mind One can opt for online classes for the guidance.
8.Meditation – which is a proven measure to control and relax one's mind, can be practiced on regular basis. One can also practice Guided meditation.
9.Seek counselling if you feel that coping with the mental issues is getting harder as days pass by.
10.Do not discriminate.
COVID-19 has definitely created a mayhem and turned things upside down. Amidst the chaos it's important for individuals to maintain their physical and mental health.
LET'S STAY SAFE AND STAY HOPEFUL DURING THIS TIME OF CRISIS:
"Just a little longer, I said to myself Let there be hope.
All the fight in darkness will be over,
The pain and the suffering too, will fade away.
For this isn't the end
But, is a beginning of a new chapter.
The morning will come again.
No darkness, no sorrow is eternal."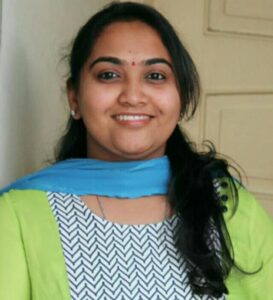 Dr. Rajeshwari S.J
Masters in Public Health
JSSMC, JSSAHER, Mysuru- 570015