LAIQA, a homegrown, premium and biodegradable (93% Biodegradable) brand of sanitary napkins, founded by Monica Bindra, Nazish Mir and Ali Mir, entered the Indian market in February 2019. In today's world, people have become more conscious of what they use and are more aware of the materials they bring close to their body or those they insert in them. The latest entry and player into the sanitary napkin market is LAIQA, a brand that focuses on comfort and ease.
LAIQA believes it can create a hassle-free period for the consumer, right from product order to acquisition and product experience – always in keeping with a sustainable future for one and all. They intend to eradicate the stigma attached to female menstruation by creating a platform for safe, healthy and comfortable discussion. Women deserve more than what has been provided; quality products & services that provide the consumer with the highest utility worldwide. LAIQA aims to move past the shame & propagate pride for female flow!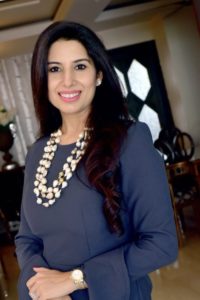 "The brand vision for LAIQA is to be the best sustainable feminine hygiene brands in the market, but first, always – a brand with heart. We offer quality products and wish to collect a community of not only women but people who recognize menstruation for both how normal and special it is," says Monica Bindra.
The LAIQA team has worked hard to deliver pads which have unique combination of features and functionalities of world class standards. LAIQA is proud to provide each pad with the best available high-quality feather soft top sheet and breathable bottom sheet. The pads are rash-free, allergy-free,itch-free and protects the consumer from UTI's and yeast infections while providing them the best possible comfort. LAIQA pads are free of Chlorine, chemicals, toxins and even fragra
nce. It is important to note that a conventional sanitary napkin has about 80%-90% plastic whereas LAIQA has 7% plastic in its product. These pads come in disposal bags and cardboard boxes that are made of paper and are 93% biodegradable and recyclable. Each napkin is designed to solve the purpose it is made for – super absorbent, most comfortable, pH compatible and safe.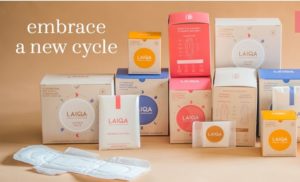 While delivering the best quality product, LAIQA never forgets the convenience of its consumer and provides individual and combo packs to suit the needs of every woman including ability to have subscription model. Nazish says, "We want to encourage/ women to love and accept themselves as they are and offer them a safe space, a platform where they can ask questions freely and learn what is best for them,"
It takes almost 500 years for sanitary napkins to decompose, generating around 9,000 tonnes of plastic waste every year in India alone – that & 432 million pads in one year. The brand will be coming up with more products and introducing more categories, while staying true to their eco-friendly roots.  "A sustainable future is the only one to aspire for and strive towards and LAIQA has proved to be the vessel through which we are able to create a successful model of sustainability" added Ali.
LAIQA has a strong social commitment and participates in philanthropic initiatives like BODO (Buy One, Donate One) where on the purchase of every pack of pads, a pad is donated to lesser privileged menstruating girls and women. They are currently working closely and actively with 4 different NGOs on a voluntary basis alongside the sanitary pad donations. LAIQA has also created a quality stamp 'Good for Her, Good for Earth' – which reinforces the brand's ethos of sustainable comfort.
LAIQA is available on the following e – commerce Website:  mylaiqa, Nykaa, Amazon and Flipkart.
 Technical Facts to Note:
LAIQA is 93% Biodegradable & it contains 7% of plastic.
LAIQA pads are free of Chlorine, chemicals, toxins and even fragrance.
LAIQA pads are rash-free, allergy-free, itch-free and protects the consumer from UTI's
LAIQA sanitary pads are made from the highest quality absorbent materials – feather soft, chlorine free & with reduced plastic-offering protection from rash, allergies and irritation.