Bengaluru: The former Secretary in Union Health and Family Welfare ministry Dr.Sujata Rao has felt that the private sector can play a key role in the health care services, as the government cannot alone meet the hospitalisation need of the population.
Delivering a key note address at the inaugural session of the 'Karnataka Health Summit – 2018' on 'Universal Health Care – Opportunities and Challenges', organised the Private Hospitals and Nursing homes Association (PHANA) in Bengaluru on Sunday the former union health secretary said that "Universal health coverage essentially was aimed to make health care access to all the citizens without undergoing financial hardship".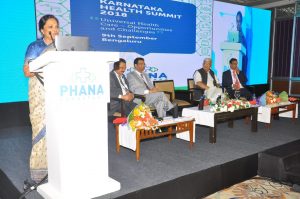 Dr. Rao also called upon the private sector to play a key role in prevention of diseases and promotion of good health in the country. She asked private hospitals to create awareness about ill-effects of Tobacco, junk food and aerated drinks which are contributing to the growing epidemics and obesity.
Maintaining that there is shortage for surgeons, paediatricians, specialists, nurses, technicians and other para-medical staff, she said that tele-medicine and virtual classrooms, can play a role in augmenting human resources. Senior doctors should train and mentor the juniors by adopting apprentice type training methods, she added.
India has huge opportunity to take advantage of growing market for health professionals, provided one provides excellent training and skill development. By 2030, she informed that 40 million jobs will be generated in the global healthcare sector.
Making her observations about the ambitious Central Government programme of Ayushman Bharat programme, Dr.Rao said it will improve public spending on Health which stands at just over one percent of GDP. The programme will remove financial barrier in availing healthcare services in the private hospitals. Healthcare will reach out of remote areas.
However she was apprehensive about the escalating cost of healthcare and acute shortage of healthcare professionals in the country, which she said are serious constraints in providing universal healthcare in the country.
She also said that due to portability option being given in the Ayushman Bharat programme patients in the northern region will flood hospitals in the southern and western regions, which are already over loaded and coping with flux from domestic and foreign destinations. Northern region of the country, she noted has very poor spread of hospitals and availability of doctors. Working conditions and general environment are also not conducive for doctors from the surplus regions to migrate to northern regions.
She also called upon the Doctor associations to lay down proper treatment protocols and standard operating procedures that must be binding on all. She stressed that there must be a movement for rational use of drugs.
Expressing concern over growing cost of getting medical education in the country, She called upon the Medical Council of India (MCI) the governing body of the Medical education in the country, she said that "It (MCI) should revisit its guidelines and stipulations for granting new medical colleges".
PHANA president Dr Madan S Gaekwad, President-elect Dr C Jayanna, Secretary Dr R Ravindra, Dr S C Nagendra Swamy, renowned educationalist Prof K E Radhakrishna and other eminent personalities were also present on the occasion.