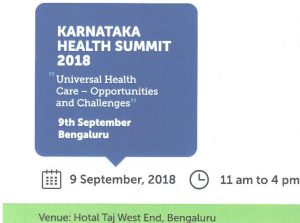 The Private Hospitals and Nusring Homes Association – Karnataka (PHANA) will host a one-day "Karnataka Health Summit-2018" on 'Universal Health Care – Opportunities and Challenges' on 9th September, Sunday and which would deliberate and debate on the core subject by the eminent personalities, policy makers and experts on the issue.
The One-day Karnataka Health Summit, will be inaugurated by Dr G Parameshwara, the Deputy Chief minister, Government of Karnataka while, Sri Sivananda S Patil, Minister for Health and Family Welfare, will be the chief guest and Ms K Sujatha Rao IAS (retd) will participate and deliver a key note address on the occasion.
The summit, which is being held on the backdrop of the Union Government's decision to implement the Universal Health Care policy, which has been debated and discussed across the country in length, among the stake-holders of the Health care delivery system in the country, would focus on to improve the health indicators and enhance health care delivery system in both rural and urban areas.
The summit will also focus on the issues relating to increasing India as well as State's health outlay of GDP and overcome the issues relating to shortage of availability of skilled human resources in the health care delivery system.
With the private Hospitals and Nursing homes across the country playing a vital and major role in providing health care delivery systems in the country, the summit will also deliberate in length about issues bothering the stakes involved by the private institutions in achieving the goals of the Union Government as for as implementing the Universal Health Care policy across the country.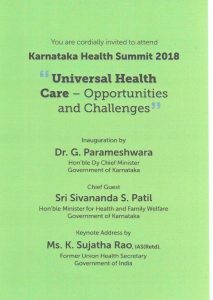 Among others things, the  issues relating to employing the power of Technology to solve the last mile in primary health care hurdles, with faster, reliable and cheaper methodologies , will comes into focus by the experts in the panel discussion, which would be attended by the members of various speciality associations, and eminent practicing doctors and others.
The summit would also spray light on the Karnataka Government's KPME bill and Insurance, its implications in enhancing and overcoming the hitches in providing the health care delivery system in the state.
Dr Nagendra Swamy, Ms K Sujath Rao, former Union Secretary, Health and Family Welfare, Mr Javed Akthar, IAS, Principal Secretary, Health and Family Welfare, Government of Karntaka, Prof Dr C N Manjunath, Director, Sri Jayadeva Institute of Cardiology, Col (Dr) Dayananda Malenahalli, Director, JSS Hospital Mysore, Dr Mallesh Hullimani, President KPMEA – will participate on debate on UHC- Opportnities and Challenges.
Dr S Gaekwad, Dr Nandakumar Jairam, Chairman Columbia Hospitals-India, Dr Alexander Thomas, President AHPI, Dr Prashanth N Neuro Surgeon, Promoter Svaasthya Health City, GM National Insurance and DGM United India Insurance, will be in the panel discussion on 'Private Hospitals – Current concerns on KPME and Insurance.
For more Information on the summit, Please contact:
Dr Madan S Gaekwad Hon President, PHANA
Dr C Jayanna, Hon President-elect, PHANA – 9900589501
Dr R Ravindra, Hon Secretary, PHANA. – 9845034546