A
ir pollution has remained a much talked about issue in the past few years since the air quality in Delhi continues to plummet. The condition was more daunting in 2017 when the AQ index had reached 999 micro grams per cubic metre, the highest in the history of the capital and till date, the pollution levels are beyond the safe limits. Out of the 10 worst polluted cities in the world, 7 are in India and Delhi is one of them. The concern is now more profound as the impacts on health are visibly alarming.
A recent report by the State of India's Environment (SoE) has held air pollution responsible for 12.5 percent of all deaths in the country out of which 100,000 are children below the age of 5 years.
Furthermore, it has adverse effects on mental health and intelligence of children corroborated by a study conducted at Cincinnati, U.S. Anxiety, depression, suicidal thoughts and other mental disorders are the common symptoms.
Being an educator and mother as well, I understand the concern of parents for their child's health. And so would like to share some tips  to reduce these notorious impacts to some extent:
You can use either artificial or natural purifiers at home. Plants like Aloe Vera, Bamboo Palm, Golden Pothos, Peace Lily, English Ivy, etc. are natural purifiers which can be used as houseplants.

Indulge your child in breathing exercises to strengthen their lungs and help them combat the pollutants.

It is proved that foods rich in vitamin E and C are great to reduce the effects of air pollution.

Use air masks during the days of high pollution.

Fluids help in detoxification of the body, so make them drink plenty of fluids.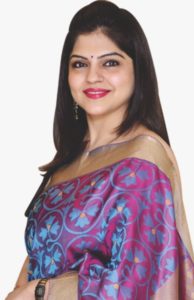 Mrs Meenal Arora, Founder Director
Shemford Group of Futuristic Schools,
614A, DMall, Netaji Subhash Place,
Pitampura, Delhi-110034