Artificial intelligence (AI) has been playing a critical role in industries for decades and today it has taken a leading role in the healthcare industry. It is undergoing a paradigm shift, evolving from a human-driven to a technology-enabled sector. From hospital care to clinical research, drug development and insurance, AI applications are revolutionizing the sector to reduce spending and improve patient outcomes.
With the introduction of machine learning algorithms, doctors are able to recognize recurring patterns across heaps of data and warn patients of potential health complications based on reference groups. The adoption of artificial intelligence in the healthcare sector is helping predict such situations and assist providers to take extra precautions. With the presence of this technology, it is allowing individuals to easily access and secure the patient's medical data by understanding and analyzing their illnesses.
The overall healthcare industry is one of the largest with a massive patient database in India. With the on-going developments in artificial intelligence, it is expected to reach $6.6 billion by 2021. Looking at the numerous and exciting potential healthcare applications for AI technology, healthcare providers are exploring the application of AI programs to insurance verification, skin cancer diagnostics, the analysis of lab results and medical record data analysis. We are also beginning to explore the depths of healthcare innovations that can be unlocked with these continuous advancements in AI technology.
According to the Interim Budget of 2019-2020, the government is also stressing on creating a stronger healthcare delivery system in the country with an ambition to enable people of all strata to avail accessible and affordable medical facilities. In order to fulfill this ambition, the government is working towards setting up a National Centre for Artificial Intelligence, along with the development of National AI Portal, to create an ecosystem for the adoption of technologies and support the momentum of care. Additionally, Dot era is opening a myriad of opportunities including internet of medical things for the healthcare industry. In simple words, machine-to-machine communication using sensors that captures an event and translates that for the receiver to take an action. In this process of communication, AI has been continuously bridging the gap between healthcare service delivery and patient recovery.
Therefore, it is essential to build pillars under this sector that ensure a seamless experience to the patients with early diagnosis, health assistance, mining complex data analysis, drug discovery, and supply chain. Focused not only at making an organization's bottom lines healthier but also at contributing towards a better way of preventing diseases through prediction. With Fujifilm's long history of innovation in medical imaging and healthcare informatics, it has created newer AI platforms like REiLI to meet the current needs of the patients. By bringing in technologies like Image Processing and Artificial Intelligence, it will allow specialists to facilitate accurate diagnosis among their patients.
Today, digital technology has liberated physicians, nurses and researchers to focus more mental energy on higher-level cognitive tasks and patient care. The medical professionals are not required to memorize information as they did 50 years ago, thanks to the digital revolution. It is believed that artificial intelligence is poised to take it to the next level. Therefore, it is important for healthcare providers to leverage these technologies in the country that is facing a series of health issues like growing disease burden and poor doctor-patient ratio. Spurring AI-based innovation and establishing AI-ready healthcare infrastructure is thus imperative for both government and the private sector.
Another upcoming challenge expected with the entrance of AI is the relationship between Physicians and artificial intelligence. In order to improve the lives and the health of the patients, both Physicians and AI need to move together in synergy. With the best of both applied sciences, AI will help the physicians in faster diagnosis allowing them to focus on reviewing the data given by AI algorithms and work on complicated cases that AI cannot handle.
Given the growing demand for qualitative care in the complex healthcare environment in India, AI has significantly disrupted the traditional medical approach and is likely to transform the healthcare delivery model over the coming years.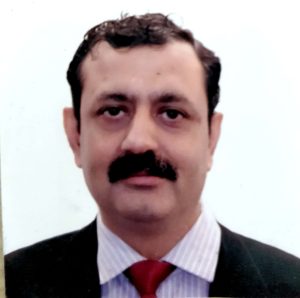 Mr. Chander Shekhar Sibal
Executive Vice President
Fujifilm India Medical Division