EXCERPTS from the Health Education Programme in the series of programmes of Arogya Nandana 

project held on 25th June, 2018 at Bangalore
Media Icon of Bengaluru in association with manufacturer of quality homeopathic medicines – Dr. Pattar's Gold Pharma,had organised a Health Education programme in the series of programmes of Arogya Nandana project, on 25th June 2018, in BHARATH VIDYA NIKETHAN School at Kumara Park west extension.This programme was inaugurated by Mrs. Uma Ramesh, drama artist and Director of a Travel Agency, Mysuru. Retired textiles engineer and managing trustee of Kamadhenu Educational Seva Trust, Mr. Shankar Shetty presided over the function.
The main theme of the discussion was "how to improve concentration and memory power in children". The medical experts participated were Dr. P.V. Pattar a HOMEOPATHY and NATUROPATHY Doctor, President of Sri. Dhanvanthari Arogya Dhamand research centre limited at Gurlapur (Moodalagi) Belgum District and Dr. Promod V. Pattar M.D. Gold Pharma.
Mr. N.V. Ramesh, retired programme executive Akashavani and programme co-ordinator, Arogya Nandana Project, Mr.Shrikrishna Mailengi managing editor of Vydyaloka and Health Vision magazines, Mr. Pratap a diet expert and Mrs. Usha Shekhar Principal of the school graced the occasion. Students' teachers and few parents participated.
The edited version of the dialogue is presented for our readers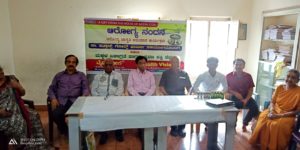 Ramesh: –What is Homeopathy? How it is different from other Health systems?
Dr. P.V. Pattar: – Ayurvedaprepares medicines utilizing leaf –fiber-roots. Homeopathy puts these raw materials in rectified spirit for 40 to 50 days. Later medicine is extracted.
Ramesh: – lay man says in Homeopathy, you give same small round sugar pills for everyone. How it is?
Dr. P.V. Pattar: – No. they are not same. When we prepare pills from sugar and milk powder, there is no medicine. When we add different medicines, pills absorbs. After analysing the disease of patients, medicines are given.
Ramesh:-May I ask the gathering, a common question? What is meant by Health?
Usha Shekhar: –Health is Wealth and fortune. This is absolutely necessary for the total development of personality.
Ambika(Parent): –Health is needed to give energy to body.
Soundarya(Teacher): – Energy needed for all activities by the body, is Health.
Nirmala Shankar Shetty(Housewife): –Basis of Health is the food. i.e., Milk, fruits, vegetables, and Greens.
Ravi Shekar: –As a retired officer and as a senior citizen, according to my experience, balanced food protects Health.
Mohan (Parent): –Health is property. It is very important. Health will not come on its own. For this we have to do physical exercises, running, yoga and get energy. For earning livelihood, Health is important.
Ramesh:-May I define Health as, physical, Mental and Spiritualwellbeing.
Dr. P.V. Pattar: – Both physical and Mental Health have mutual dependence.
Dr. Pramod: – Yoga balances Health.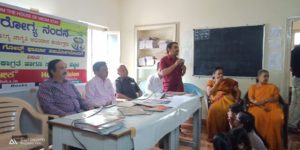 Shrikrishna Mailengi: – From good food we have a Healthy body and Healthy mind. Children and students should eat good home food. They must play outside.
(Several Parents narrated problems about mental concentration and memory power of their children).
Mohan: – My son is studying in 3rd standard. If I ask him any question, instead of replying, he repeats my question.
Dr. P.V. Pattar: –Please don't ask your ward repeatedly to study, especially when you are watching T.V. If you aredoing so and make your ward to sit in different roomfor studying, tell me how he /she can study?
Ratna(Teacher): –(pointing to a student) – This student can talk very well. But still he sits idle. He can write, but he does not mingle with other children. He repeatswhatever we say andremembers various phone numbers.
Mamatha(Mother): –My son does not write homeworks. He is very naughty. If I askhim to read, he replies "Let us watch T.V".
Dr. P.V. Pattar: – (in response to teacher and mother) – Parents have to create good reading environment at home. Being elders and parents, if you see TV from morning till night, how can you ask your children to read and not to see TV? Will those children read? Can they get motivation and inspiration from you? There should be a daily time table for reading.
Shankar Shetty: –As a parents your dedication is very important for motivating your child to read. To increase their concentration allow them to read independently, but observe. Spend time with your ward and not with TV, it is important to control addiction to it.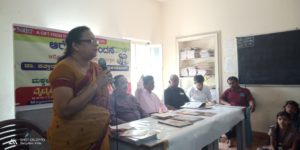 Dr. Pramod: – Tell me, what do you see in TV?
Student: – Cartoon.
Dr. Pramod: – What do you get from that?
Kishore (Student): –Nothing.
Anitha(Mother): –He knows and handles mobile and TV very well.
Dr. Pramod: – This proves his intelligence, so it is our duty to help him to utilize this productively. Correct your wards mistake in a pleasing way with love and affection. Motivate for outdoor activities and provide a platform for physical activities like playing, running, cycling, swimming etc. Avoid giving mobile phone to your ward.
Pratap (diet expert): –To get energy for the body, do exercises. Parents please avoid TV for the sake of your children. And provide a healthy and nutritious food. We should know that it is part of parenting. Physical activities is as important as food, if not it accumulates to form obesity.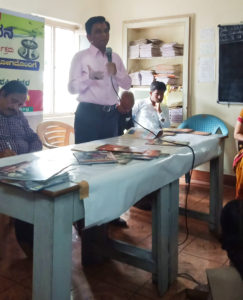 Dr. P.V. Pattar:-I will give you few tips for your good health. As soon as you get up in the morning, drink 100 ml. warm water. Never eat dairy, bakery and fast food. Eat fresh sprout. Daily recite Om in your normal voice. If you practice Pranayama that is control of breathing, your health will get better.
Dr. Pramod:- parents are role models for their wards, so please act accordingly to take your ward in a right path instead of giving instructions.
Uma Ramesh: – Everyone has to protect his/her health. One should prepare fresh nutritious food every day by using ingredients available at home. Try to make your food attractive for your wards.
Ramesh: – Earlier kitchen was the health center of our family. Fresh, clean and healthy food were prepared daily. But now TV, Internet, Mobile, Facebook has diverted attention of the family members. Now refrigerators and bakery items has made its place in our life.Our children have been addicted to eat these foods.  All this will ultimately affect your physical and mental health leading to poor concentration and weak IQ.
Shankar Shetty: -Parents should follow healthy lifestyle as your children will try to follow and imitate you. Help your ward in improving their concentration to perform well in their studies and ultimately life.
(Medical checkup: Simultaneously medical checkup of students was held. Dr. P.V. Pattar and Dr. Pramod Pattar spoke with the children in detail and individual attention was given to needy children and parents. They analysed individual shortcomings and they suggested solutions. Many parents got solutions for problems of their children. On this occasion, Dr. P.V. Pattar distributed free homeopathy medicines produced by his own Gold Pharma Company, necessary for increasing concentration and memory power of children.)
Ramesh: – which were those medicines you distributed to these children?
Dr. P.V. Pattar:-They were MEMORY PLUS and BRAIN TONE. After conducting research these medicines have been produced by us and we have taken approval from the government. We have been producing these product from last 25 years.
Ramesh: – How these medicines are useful to children?
Dr. P.V. Pattar: -These medicines help the students to overcome from exam tension. It also helps in improving memory. We have been giving this medicines to lakhs of students from last 25 years.