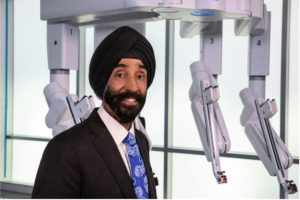 The global healthcare industry is going through a major transformation. There is a growing emphasis on improving the quality of care being delivered and artificial intelligence has already started making inroads into the healthcare industry. A discussion paper floated by Indian government's Niti Aayog places healthcare among one of the focus areas for AI intervention.
 AI & ML is becoming increasingly sophisticated at doing what humans do, but more efficiently, quickly and at a lower cost. India produces only about 50,000 doctors every year – not nearly enough to get to minimum standards. To get to the WHO recommended minimum of a doctor patient ratio of 1:1000, India will need 2.3 million doctors by 2030 and the nurse: patient ratio is 1:483, implying a shortage of around two million nurses. Intervention of AI is not only a novelty but also prove to be a vital part for the sector.
Intuitive brings more than two decades of leadership in robotic-assisted surgical technology and solutions to its offerings, and develops, manufactures and markets the da Vinci® surgical system. The da Vinci system, which was the first FDA approved system to conduct robotic assisted surgery, has improved the lives of millions worldwide, with outcomes ranging from reduced bleeding, trauma and hospital stays.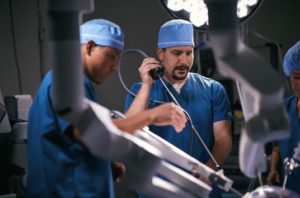 In 2018, Intuitive established a direct presence in India. Intuitive's 'commitment to India' has been  built on a foundation of success and innovation in India. The DaVinci was used for India's first robotic assisted surgery, which took place in Delhi in 2002 and prior to 2018 Intuitive has spent several years giving Indian hospitals, surgeons and patients access to robotic assisted surgery through the Vattikuti Foundation.
In this context, HEALTH VISION had an interaction with Mandeep Singh Kumar- Vice President and GM, Intuitive Surgical India.
Tell us about the background of Intuitive and its operations in India.
Intuitiveis a global technology leader in minimally invasive care and the pioneer of robotic-assisted surgery.Intuitive brings 25 years of leadership in robotic-assisted surgical technology and solutions to its offerings. We develop, manufacture and market the da Vinci® surgical system and the Ion™ endoluminal system.
Our origins date back to the late 1980s, when robotic-assisted surgery was emerging in Silicon Valley at the former Stanford Research Institute (SRI).The National Institutes of Health supported surgical applications, and by the early 1990s the U.S. Defense Advanced Research Projects Agency had added funds in search of systems that could perform battlefield surgery. One of the founders of Intuitive acquired the initial technology from these projects, leading to the further refinement and development of surgical system technology.
In 1995, Intuitive Surgical Devices was founded, commercializing what was known as the time as the SRI system. In 1997, we began testing the first da Vinci surgical system. Intuitive received U.S. FDA clearance for the first da Vinci surgical system in 2000. Since then, more than 7.2 million da Vinci procedures have been performed globally.
In mid-2018, we moved to a direct business structure in India to expand access to the benefits of robotic assisted surgery to patients, surgeons, hospitals and healthcare system. We are headquartered in Bengaluru, which is Intuitive's sixth international office.While our decision to go direct was recent, it was built on a foundation of many years of success and innovation in India. The first robotic assisted surgery procedure in India took place at a hospital in Delhi in 2002 – since then, the technology has been adopted by surgeons and hospitals throughout the country. 
Could you briefly explain about RAS?
Robotic-assisted surgery allows surgeons to perform many types of complex procedures with more precision, flexibility and control than is possible with more traditional techniques. The da Vinci system isdesigned for complex surgery using a minimally invasive approach – in other words, procedures performed through very small incisions.
The da Vinci surgical system includes an ergonomic surgeon console or consoles, a patient side cart with three or four interactive arms with a high-performance vision system and wristed instrumentation.   The surgeon controls the arms while seated at the computer console near the operating table. The console gives the surgeon and OR staff a high-definition, magnified, 3D view of the surgical site, which allows everyone in the OR a clear and unobstructed view of the patient anatomy.
Please provide a background on da Vinci System
da Vinci surgical systems are advanced robotic-assisted surgical platforms designed to expand a surgeon's operating capabilities and offer a state-of-the-art minimally invasive option for patients.Our systems have pioneered new capabilities in the OR, transforming the field of minimally invasive surgery.In 2000, the da Vinci became the first robotic-assisted surgical system cleared by the FDA for general laparoscopic surgery.
By providing surgeons with superior visualization, enhanced dexterity, greater precision and ergonomic comfort, the technology makes it possible for skilled surgeons to perform minimally invasive procedures involving complex dissection or reconstruction. The system also scales, filters, and translates the surgeon's hand motions into more precise movements, and its instruments bend and rotate with greater dexterity than the human hand, and can offer enhanced access to the surgical site.
Globally, more than 7.2 million robotic-assisted surgical procedures have been performed using da Vinci systems. In 2019, 1.2 million procedures were performed, and every 26 seconds, somewhere in the world, a surgeon starts a da Vinci procedure. As of today, more than 5,500 da Vinci robotic-assisted systems have been placed in 67 countries and more than 52,000 surgeons have been trained on da Vinci worldwide. 
What do you think has led to the rise of robotic assisted surgeries in India?
 Two key factors have helped to drive the rise of robotic-assisted surgery in India – the skill and pioneering spirit of Indian surgeons, and the impact that robotic-assisted surgery has on their patients. Indian surgeons have made important contributions to the evolution and development of robotic assisted surgery over the past two decades. Since the first robotic-assisted surgical procedure in India was performed in 2002, we have been training and collaborating with pioneering Indian surgeons throughout the company's history. As a result, India now has a pool of committed, skilled and highly passionate RAS surgeons, who have a robust patient flow, manage complex cases and collaborate with their peers around the globe.
It is clear that Indian surgeons are adopting the technology and adapting quickly to it,seeing it as a tool that can give them additional capabilities and deliver clinical benefits for their patients. The recent 2019 launch of the Indian Chapter of the Clinical Robotics Society Association (CRSA), a global association dedicated to surgeon training, and now the first Indian robotic surgical society, demonstrates the growing enthusiasm and maturity of the surgeon community.
What are  the advantages/benefits of RAS?
 The benefits of robotic-assisted minimally invasive surgery have been explored in more than 21,000 peer-reviewed, published studies and reports. For patients, da Vinci surgery can offer many potential benefits compared to open surgery, including less blood loss, less pain, fewer complications, shorter hospital stays, fewer re admissions, faster recovery and smaller incisions. 
Surgeons who use the robotic-assisted systems find that it can enhance their precision, flexibility and control during the operation and provide superior visualization compared to traditional techniques such as open and laparoscopic surgery. With robotic assisted surgery, surgeons can perform complex procedures that can be difficult with other methods. 
How many systems have you brought in so far to India?
We have more than 70 da Vinci systems installed in India, to date, which includes a number of government institutions.However, it is important to emphasize that installing a system is part of a longer relationship.  Of particular importance to us here in India (and globally) is not merely introducing a da Vinci system, but also supporting our customers in establishing strong robotics programs through everything that supports the technology: training, customer service and support. We call this our "ecosystem" and it helps us help our customers by ensuring the long term success of each robotics program.
This process starts well before installation of a system at a hospital or institution. We assess key factors related to starting and maintaining a successful robotics program – such as if a program will have the right patient flow, a pool of passionate surgeons who have the right skill sets, and the potential to achieve the right clinical outcomes.
Is the adoption for RAS higher in urban metro city hospitals only or is there a distinct trend towards spreading to the hinterland and smaller private hospitals?
 Surgeons across India are adopting the technology, adapting to it quickly and looking at it as a tool that provides them with additional capabilities and that can help them deliver clinical benefits and economic value.Linked to the availability of tertiary care facilities and patient flow, the deepest penetration has been in teaching and referral hospitals as well as private multi-specialty chain networks. We continue to work with surgeons and hospitals across India to expand access to robotic-assisted surgery.
Could you please shed some light on the cost factor?
 Intuitive offers a range of systems at different price points and flexible purchasing terms, which we use to help individual customers develop robotic-assisted surgical programs that meet both their clinical and economic goals. We do not comment on profit margins or individual transactions with customers, as they are confidential. As a ballpark number, the da Vinci is between a 1 and 2 million dollar investment.
What are your plans for India and how do you see this segment contributing to your overall growth?
 We see an exciting opportunity for surgeons in India to use our robotic-assisted surgical systems to make a difference for their patients. Intuitive is building a robust presence in India to meet and support this growing interest and demand. To strengthen our presence, we have invested in training centres, hiring employees, including teams that works closely with surgeons, to support hospitals for the long run.
One of our key focus areas is on hiring employees in sales, support, clinical affairs, marketing, training, regulatory and other areas in order to best support our customers and facilitate access to, and expansion of, robotic-assisted surgery to more patients and institutions throughout the country. Intuitive has a very strong, mission-driven global corporate culture, and we are excited to bring that to life here in India, working to build our team in order to develop and deliver the tools, technologies and solutions to help improve the lives of patients.
 What is Intuitive's vision for India?
 Robotic-assisted surgery has made a meaningful impact in India, but is in a relatively early phase and has enormous potential. India is a long-term, important market for Intuitive, and we are investing in India for the future. Demand for robotic assisted surgery in India is high, and we believe we have an important opportunity to help surgeons to positively impact patients throughout the country by enabling access to the benefits that robotic-assisted surgery can provide.
What are the areas of therapies you focus on?
 Since 2002, da Vincisurgical systems have been used in more than 7.2million minimally invasive procedures across a number of surgical specialties. Some of our key focus areas include gynecology, surgical oncology and urology.
Please mention about the new products that you are considering to bring in?
 Recently we expanded from RAS to lung cancer biopsy by launching Ion. It is an FDA approved system that features an ultra-thin, ultra-maneuverable catheter that allows navigation far into the peripheral lung, and unprecedented stability enables the precision needed for biopsy. It enables the physician to extract a sample to detect the disease without the need for invasive surgery. Currently Ion is in use in the US, and initial results are promising – over time we will evaluate opportunities to bring Ion markets where it can make an impact.
Could you please name some of the hospitals that are using your technology?
So far, we have installed more than 70 da Vinci surgical systems in major hospitals throughout India. Some of the key hospitals where da Vinci is installed include:
Manipal Hospital, Bangalore
HCG Hospitals, Bangalore
HCG Hospital Ahmedabad
Max Hospital, Delhi
Kokilaben Dhirubhai Ambani Hospital, Mumbai
Rajiv Gandhi Cancer Institute and Research Centre, Delhi
All India Institute of Medical Sciences, Delhi
Postgraduate Institute of Medical Education and Research, Chandigarh 
Are you providing any training for doctors/surgeons?
 Yes, we have two training centres in India: Amrita Institute of Medical Sciences and Research Centre, Kochi and M.S. Ramaiah Medical College, Bangalore. We aim to provide the best-in-class training and support to surgeons in India throughout their careers – from initial exposure to the technology, to progressing from basic training through to more advanced training.In India, over 500 surgeons have been trained on the da Vinci system.