Ahmedabad:Ahmedabad based pharma major Cadila Pharmaceuticals was awarded a 'ObserveNow Future of Workplace Award' and a certificate of recognition at a glittering ceremony at Noida on September 11, in the presence of 50+ Chief Human Resources Officers and HR Heads from various organizations.
Cadila Pharmaceuticals and its HR leader was selected by the esteemed jury members as one of the winners of the ObserveNow Future of Workplace series. The awardees were finalized after a rigorous selection process."The selection was made on the basis of the technologies used in the company, HR policies, and initiatives were taken to make the organization an employee-friendly futuristic workplace," Cadila Pharmaceuticals said in a release.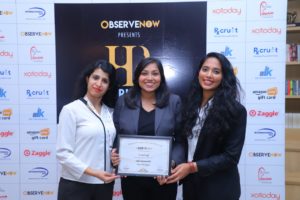 Cadila Pharmaceuticals fared well on all the above-mentioned parameters and was picked among the 20 winners. Fifty companies were in the fray for the awards.This recognition comes recently after Cadila Pharmaceuticals won multiple awards at TISS LeapVault Summit and awards for its Learning and development initiatives.Cadila Pharmaceuticals Ltd. is one of the largest privately-held pharmaceutical companies. Over the past six decades, it ha is developing and manufacturing affordable medicines for patients around the world.