Bengaluru: As per the guidelines of WHO Kidwai Cancer Institute is celebrating world Breast Cancer Awareness programme in the entire month of October.
The institute is conducting free Mammography to identify breast related diseases in the hospital. On 20th October institute is planned to conduct one day CME about Breast cancer.
Expressing concern over the alarming increase of breast and other related cancer Dr Ramachandra C, Director, Kidwai Cancer Institute, emphasised the need of creating awareness about this diseases and to facilitate early detection.
 "Institute is conducting Seminar and guest lectures for students through Various programs in different women colleges like N M K R V college, Jaynagar; Sacred Heart first grade college, Jeevan Bhimanagar;  Darshan first grade college, kengari;  Kongodiappa college, Doddaballalpura. On 20th October institute is conducting one day CME on Breast Cancer" said Dr Ramachandra
"The food habit, aerated drinks, change of life style has increased the Estrogen hormone level, which leads to Breast cancer. Compared to rural area percent of breast cancer in urban area is very high. As per the statistics, in Karnataka 24 out 1 lakhs, and in Bengaluru 34 out of 1 lakhs is suffering from breast cancer. Approximately 1000 new cases are reported in Kidwai Hospital." he added
About Kidwai Hospital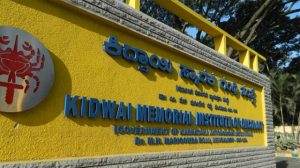 Hospital is a well-known major and a model comprehensive regional centre for cancer research and treatment offering sophisticated diagnostic and treatment services to ever increasing numbers of cancer afflicted patients from Karnataka and adjoining areas of Andhra Pradesh, Telangana, Tamil Nadu, Kerala and Maharashtra. It is next to Tata Memorial Centre in terms of organisation, accommodation, equipment, staff and patient turnover. It is an autonomous institution under government of Karnataka.