Allergic rhinitis is a common but very complex disease which is more prevalent in the urban society. Understanding Allergic Rhinitis  & how to tell apart from COVID 19 during this pandemic 2020 ?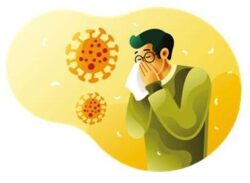 Allergy is a common ENT condition often seen in our city, nearly 15 – 25% of the urban population suffers from this disease so understanding this condition is of paramount importance. Allergy is quite secular when it comes to effecting people as it effects people of any race , gender and religion. Keep in mind that allergy is by far the commonest non-infectious disease especially effecting the early age group.
What is Allergy ?
Allergy is a body response to a outside particle which we call allergens. These substances called allergens are found almost everywhere you go. They are present in our office , cinema hall , shopping malls , and even in our house. These allergens are so small that we need a microscope just to find them. The most common allergens which are found in our day to day life are house dust mites, pollens, animal dander, etc.
So How Does Allergy present ?
Allergies usually present with ample number of symptoms. Initially on exposure to an allergen the individual might have itching in the nose and eyes followed by sneezing and watering of the eyes. Later there will be watery running nose discharge and redness of the eyes which can be accompanied with head ache and throat irritation.
How do we differentiate allergy from COVID 19 during this pandemic ?

Allergy is a bodily reaction to a substance which you are allergic to but where as COVID 19 is a viral infection caused by a type of Corona virus strain. As like all infections patients with COVID 19 will have fever , head ache , throat pain/irritation initially. The major difference between COVID 19 and allergy is the presence of fever, in allergy fever is never seen unless it is a very sever allergic reaction. Allergy is characterized with sneezing , running nose and itching of the eyes.
How do we test for allergies?
Testing Allergy is primarily by detailed history and examination of the individual by an ENT surgeon or a   specialist who is trained in the field of allergy. Giving a apt and precise history to your doctor is of at most importance. After the initial examination of the nasal cavity and throat next step is testing the individual for specific allergies by skin prick test and blood IgE level.

Skin prick test at present is the most effective tool for diagnosis of allergy all over the world. If history and clinical examination lay the foundation of allergy diagnosis , skin prick test provide a compliment of evidence for a specific diagnosis. Despite several new tests introduced , skin prick test is still the most used and effective tool around the world. The reason for the worldwide popularity is due to the fact that skin prick test are reliable, safe, specific, and it can assess sensitivity for wide range of allergens.
What are the various treatment available ?
In this modern era, there are various treatment modalities,  but it is very important to know that the patients role in the very important. Meaning that the patient should change their life style for example avoid exposure to allergens by wearing masks when you go outside, using hypo-allergic soaps and detergents to cleaning your clothes etc. Always consult your doctor when the symptoms first appear.
Initially when you consult your allergy specialist, the patient will be given topical nasal steroids and oral anti histamine to control the present allergic symptoms , in some sever cases oral steroids are recommended. once the allergic symptoms are under control , then its mainly avoidance of exposure of allergens and immunotherapy. For best results Topical steroids and Sublingual immunotherapy is advised.
What can happen if you don't get treatment for allergic rhinitis?
Allergy cuts across the entire human body and can effect any part of your body , not only your nose and eyes. Generally allergy effects skin, eyes, nose, digestive tract & lungs. When allergy effects skin it manifest by urticaria, angioedema and atopic dermatitis. When it attacks the respiratory system it causes rhinitis, sinusitis, laryngitis, asthma etc. To compare allergy to any other disease , there appears no parallel at all. Allergy can be as simple as mild discomfort to life threatening condition.
Conclusion: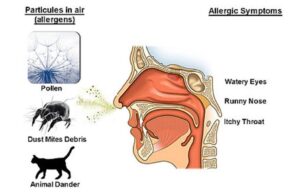 Allergic rhinitis is a common but very complex disease which is more prevalent in the urban society. A proper lifestyle modification and early consultation of allergy specialist is most important for effective treatment of this condition. The main difference between allergic rhinitis and COVID19 is the presence of fever.
And always remember, self diagnosis of any disease using internet or other methods are dangerous to you. Always consult your doctors or a near by qualified specialist for  diagnosis and treatment. A detailed clear history to your doctor will always help them to treatment faster. Skin prick test is the most effective way to test for the specific allergy. Early treatment and regular follow up can easily give relief to the patients.
" Skin prick test is considered a gold standard for diagnosis of allergy all over the world. "
Dr Ashish Rao
Specialist in Allergy & Immunology
ANAND ENT & ALLERGY CENTRE
# 109, 1st FLOOR, 1ST MAIN ROAD
KATRIGUPPE, BSK3RD STAGE
BENGALURU 560085.
Ph – 8951711776, 08026692650