A staggering 93% of Indian moms feel uncomfortable while breastfeeding their children in public places due to a stark lack of breastfeeding facilities, reveal the findings of a survey conducted by Momspresso.com, India's largest user-generated content platform that allows women to express themselves through different formats including text, audio, and video across ten languages. Titled 'Breastfeeding Challenges faced by Indian Moms 2019' the survey was conducted online among 900 moms, out of which 77% were millennials. The survey, which was primarily focused on breastfeeding facilities available in the country, uncovered a significant gap between the infrastructure and the needs of breastfeeding mothers in the country.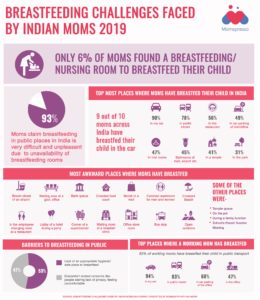 The survey findings revealed that top places where Indian mothers have breastfed their children included their own car (94%), public transport like metro, bus, train, airplane (83%), restaurants, mall/office car parking (60%) and trial rooms (47%). Indian office-going mothers stated that they have also breastfed in their office (60%) and in the car parking of their office (47%). However, only 6% of Indian mothers found a designated breastfeeding area to comfortably nurse their children. Unsurprisingly, 81% of Indian moms mentioned that they feel uncomfortable breastfeeding in public places in India because of the constant staring. An unfortunate result is that a majority of nursing mothers prefer to stay home in order to breastfeed comfortably.
When asked about the barriers to breastfeeding comfortably in India, 53% of moms cited the lack of hygienic, appropriate or safe spaces while 47% said that it is the lack of privacy and constant staring by people that hinders comfortable breastfeeding.
Speaking on the survey results, Parul Ohri, Founding Partner & Chief Editor, Momspresso, says, "While there has been extensive conversation around the benefits of breastfeeding, much less has been spoken about the actual challenges of breastfeeding at work and in public places. New mothers are intent on breastfeeding to ensure their babies get the best nutritional start possible, but they also need that intent to be supported by simple facilities such as a designated breastfeeding space in public areas such as restaurants, banks, offices, and malls. Our survey presents clear data to indicate how the lack of hygienic and private spaces in the public domain are proving to be barriers to breastfeeding."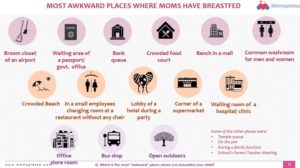 The survey report, released on the occasion of World Breastfeeding Week, is aligned to the global theme "Empower Parents, Enable Breastfeeding" that refers to collective social responsibility or a warm chain of support to create an enabling environment that empowers mothers to breastfeed optimally. Worldover and in India, celebrities and new moms including Beyonce, Sameera Reddy, Soha Ali Khan and Game of Thrones (GOT) actress Gemma Wheelan took to social media in order to address issues related to public breastfeeding.  On the onset of World Breastfeeding Week, celebrity and new mother, Neha Dhupia has launched an initiative #Freedomtofeed.  The intiative is aimed at encouraging women to share the stories of motherhood.
"Another objective of our survey is for people to understand everyone plays a part in the successful breastfeeding journey of a mother.  You will cringe when you read about the most awkward places where mums have breastfed their babies- a broom closet of an airport, a crowded beach, under a tree, waiting area of a passport office, bank queue, employee changing room without a chair …this list is quite an eye-opener. This survey provides more than enough information to warrant a policy change in public infrastructure to help mothers breastfeed successfully, no matter where they are." said Parul