VISION
 Our Vision is to create a healthy society through health information.
Join your hands with us, your involvement will help society for generations to come.
Since 2003,Media icon is proud to have its existence and success in the field of health information and publishing. We are publishing Kannada health magazine 'VAIDYALOKA and 'HEALTH VISION' (formerly Ayur Pharma Health mag) an English monthly health magazine. Now we are also to the health web portal www.vydyaloka.in and www.healthvision.in . It is a health info guide, for all your health information needs.  We do publish health books, health education materials.
We carrya Science-based health information on diagnosis, treatments, research, clinical trials, general health; nursing, healthy living, beauty, nutrition, wellness, fitness, drugs&supplements; and more. It is the body of knowledge and practice that assures healthcare. It helps to plan, direct and coordinate medical and health services, providing technical contents to various organizations.
We organise health awareness camps, campaigns and talk show in the name of AROGYANANDANA.
We cover articles and news on health industry, research activities, new products, company profile, and who are directly or indirectly related to health world. We are providing a platform to all health care professionals and research communities to share their findings, ideas and activities. Its readers are people who matters and people who decide the growth of this industry.
We are connected with pharmaceutical firms, insurance companies, long-term care facilities, public health settings, doctors, consulting firms, health associations and NGOs and many more settings.
VAIDYALOKA and HEALTH VISION – For healthy society
 VAIDYALOKA: Since 2003 Media Icon, through its Kannada health magazine "VAIDYALOKA" successively celebrates various projects, ideas, campaigns and activities, making sustainable change in the health world.This magazine published in Kannada language and it serves as a health catalyst to the kannadigas.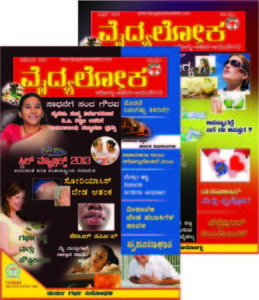 Click Here to View Vaidyaloka Magazine
HEALTH VISION:In 2010 Media Icon launched an English monthly health magazine known as 'Ayur Pharma HEALTH MAG' to celebrate people and companies who have made a difference in health Sector.Since July 2014 it is named as "HEALTH VISION".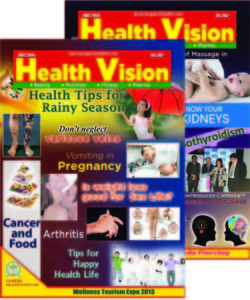 Click Here to View Healthvision Magazine
Both the magazineincludes diverse column featuring general health, beauty, nutrition, child care, yoga, food, pregnancy, women health, fitness, health focus, health news, eye care, well being, home care tips, personality development, pet therapy and so on. Hence it is a companion to comfort physique.
With the extreme support from chief editor D.A.KALPAJA, Director of the prestigious Vydehi Institute of Medical Science and ReasearchCenter, our publications VAIDYALOKA and HEALTH VISION have reached its readers extensively. Media Icon expresses itsheartily thanks to D A Kalpaja.
Since its launch it relied on a remarkable panel of hospitals, health organizations, doctors and writers.Both the magazines are karnataka's most appreciated and read magazine.
Magazine is available in selected bookshops and for bulk purchase. Subscription forms are available in the magazine and online.
Both magazines are globalised. One can access and subscribe these e-magazines even online. On line e-magazine subscription are available in www.magzter.com , in health section.